Emulation page
NOW INCLUDING MY OWN ROMS SECTION!
---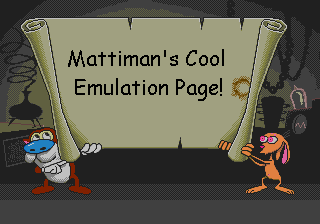 FAST PORN! Search or Browse One Million+ Clips & Pix (Members get FREE Unlimited LIVE Video Sex)


Click here for over 210 Video Feeds !


The highest Payout on the Net (INFINITE !)
PLEASE CLICK A BANNER OR TWO. YOU CAN HIT BACK TO COME BACK AGAIN, IN A FEW SECONDS. I NEED THE MONEY, OR MY SITE MAY HAVE TO SHUT. PLEASE HELP A TEENAGER PAY HIS ISP CHARGES! THANKS. SORRY TO HAVE TO BEG!
What Is Emulation?
Emulation is a way, through either software or hardware, of allowing software of different formats to be run on one machine. ("Eh?" I hear you say). For example, with a SNES emulator for an IBM PC, you could play SNES games on an IBM PC. See? Good. Currently there are a huge amount of emulators for the PC. I will tell you about the best ones, and where to get them from, so you can draw your own conclusions.
Sections Of My Emulators Page
Go To My PC Downloadable Games Page. It's So Ace!"
Member of the ULTIMATE ROM RING 
This Ultimate Rom Ring site is owned
by Mattiman.
Want to join the
Ultimate Roms ring ?
---