Mattiman's Cool ROMs Page!
Check back soon, I'm updating all the time I can!
---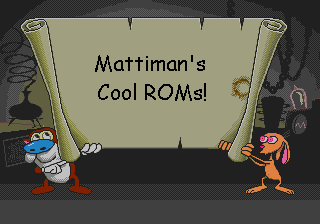 PLEASE NOTE, IT IS ILLEGAL FOR YOU TO HAVE ANY OF THESE ROMS FOR MORE THAN 24 HOURS IF YOU DON'T OWN AN ORIGINAL COPY. LIKE I DO. IF YOU GET ARRESTED, LYNCHED, OR EXECUTED FOR BEING NAUGHTY WITH THEM, IT IS NOT MY PROBLEM, NOR IS IT TRIPOD'S, NOR IS IT FORTUNE CITY'S. OK? GOOD.
MORE OVER, THESE ROMS ARE ALL MINE, ON MY SERVER SPACE, DOTTED ABOUT THE NET. DON'T LEECH THEM. DON'T NICK THEM. JUST DOWNLOAD THEM AND ENJOY THEM. LEECHERS KILLED IHOR. DON'T KILL ANYTHING ELSE.
Heavy, man... Anyway, on with the roms.
Emulators
Click one to download it.
KGen is nice and helpful and userfriendly (because it's written by a Briton, natch), but Snes9x will load, write some stuff in DOS, and then appear to go to a blank, or dark red screen. Hit escape to get to the mouse driven GUI. Magic Engine was written by a Frog, and he made it shareware, asking $35 for the full version. But he can kiss my arse, because I'm giving it to you for free! See The Dump for ROMs. I may add my own PCE ROMs some time in the future.
ROMs
Click the game you want to download. They're on my other sites at Fortune City, and the server is pretty busy usually, so I've tried to only put small games, unless the game is an all time classic. Be patient, it's worth it. Average download speed, on my 33.6k modem, is about 2 to 4K a second.
Megadrive
All games are in .bin or .smd format, i.e. they'll all work with KGen and Genecyst.
Snes
All games are in .smc format, so they'll all work with Snes9x version 0.20 (the one I've got). And, it appears, the final version, because the author has had to stop development of Snes9x because of pricks sending him shitty e-mails along the lines of "you are a right shit, fuck crap dick ha ha ha. Love Dark Demon of Hades". I hold the belief that people like that should die by slurry-pit-drowning exection, on prime time TV.
Please note, I have got all these games working on Snes9x, so if you can't, keep trying! Fiddle with the settings ( the readme is a bit crap), and if a game doesn't work, try exiting, and reloading the emulator. It seems to work. I don't know why, but if it works, I'm happy.
---
Mattiman
Mail me, dammit!