Mattiman's Cool Snes Page!
---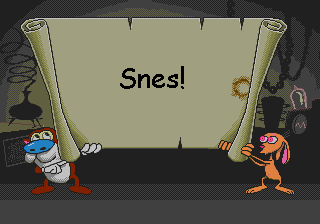 Super Nintendo Entertainment System
Known as the Snes or Super Famicom, depending on where you live, is very difficult to emulate because it has lots of custom chips to do different stuff. The Snes has many classic games, mainly racers, like Unirally, Mario Kart and Street racer. Unfortunatly, none of these work properly on any available Snes emulator at present, because of Mode 7 and things, but there are 3 or 4 promising Snes emulators in development. Snes 9x and Esnes have full sound, but compatibility problems, and need meaty processors; 150mhz pentium plus ideally. Snes9x has ahd a major update now, and can give NLKSnes a run for it's money on the speed front, while having full sound and shit, but NO MARIO KART OR UNIRALLY, boo! If you can get unirally working on Snes9x,properly, with TWO players (one player isn't worth the bother) PLEASE mail me and tell me how. However, I like Snes9x V.20 so much I've devoted some of my space for it. I'll put up some ROMs soon, too! NLKSnes runs full speed on a 486 DX/4 75 and above(!) but has MAJOR compatibility problems, and no sound or joy stick compatibility. Snes9x for win 95 is not as good as the Dos version, and is much larger to down load.
Snes Emulator
Snes 9x Size: 425k
Snes ROMs
PLEASE NOTE, IT IS ILLEGAL FOR YOU TO HAVE ANY OF THESE ROMS FOR MORE THAN 24 HOURS IF YOU DON'T OWN AN ORIGINAL COPY. LIKE I DO. IF YOU GET ARRESTED, LYNCHED, OR EXECUTED FOR BEING NAUGHTY WITH THEM, IT IS NOT MY PROBLEM, NOR IS IT TRIPOD'S, NOR IS IT FORTUNE CITY'S. OK? GOOD.
MORE OVER, THESE ROMS ARE ALL MINE, ON MY SERVER SPACE, DOTTED ABOUT THE NET. DON'T LEECH THEM. DON'T NICK THEM. JUST DOWNLOAD THEM AND ENJOY THEM. LEECHERS KILLED IHOR. DON'T KILL ANYTHING ELSE.
Heavy, man... Anyway, on with the roms.
Please note, I have got all these games working on Snes9x, so if you can't, keep trying! Fiddle with the settings ( the readme is a bit crap), and if a game doesn't work, try exiting, and reloading the emulator. It seems to work. I don't know why, but if it works, I'm happy.
More Roms here:

---
Back to Mattiman's Cool Homepage
---
E-mail me, for God's sake!
mattiman@usa.net